Hello Awesome Human! I sincerely hope you're doing great.

I am Christopher Dion, alias, Cristóbal Dión, If you're here, it's because you've connected with my music.

In terms of sonic identity, I try to keep my music esoteric, mystical and exotic. I try to create music that will make you see vivid colors and spark your curiosity. Life can feel monotone at times, and the objective of my music is to make you travel to different dimensions and see vivid colors.

If I had to define my music, it would be a mixture of Trip Hop, LoFi, Downtempo, Beat-tape and World music, and maybe even New Age.

I like to generate something out of nothing. Aside from music, I especially love drawing and painting, where you start with a blank Canva and from scratch you create this very special and unique world, using the power of you mind. I deepest hope is that my music can inspire you do the same and reach a more profound state of mind; I hope it will spark your creativity.

If you're like me and love travelling and learning languages, you might feel a deep and natural connection to my music.
To this date, I speak fluently French, English and Spanish. I also get around with Portuguese as well. I believe that Multiculturalism makes our life richer. Food, music and spirituality from different culture do make our life richer and and more colorful. If you could get that enriched life from my music, my job is done.

I have been producing music for about 20 years now. My current vision is to release a 4-track EP every two months, for as long as I'm enjoying it and I'm able to keep up.

Why the 4-track EP? Well, it's a format that suits well my mood and my schedule. It's also easier to manage. I love to get quick feedback, so any time, feel free to reach out to tell me your opinion and suggestions.

Sound is very elusive. You keep searching and tweaking, and you keep discovering more techniques and new sonic palette. I see this as an R&D project, and each EP is a new set of experiments.

If you are willing to support me, I will be infinitely grateful. You get instant access to me at all time.

PS: Feel free to write to me. I want to remain accessible.

Thanks, Merci, Gracias, Obrigado!

Cristóbal Dión
Here's what you get:
All the new music I make

streaming instantly on your mobile device via the free Bandcamp app, and also available as a high-quality download.*

Access to subscriber-exclusive messages:

These back-catalog and subscriber-only releases:
A 15% discount on all my merchandise.
The satisfaction of knowing you're supporting me in a sustainable way.
Join:
For $18/year, you get everything above.

You're a subscriber

Thank you!

For $20/year, you get everything above, plus:

I send you draft of the albums in advance to collect your comments. Access to draft album and sketches for album art-covers. I take in consideration your wishes and suggestions. One 30-minute videoconference per album release (upon request).

You're a subscriber

Thank you!
* Downloads are DRM-free and available in MP3, FLAC and
more
.
Cristóbal Dión
Montreal, Québec
Exotic, esoteric and mystical... This shaman crafts soundscapes that elevate your spirit to trance and quenches your thirst for spiritual exoticism.
Latest Release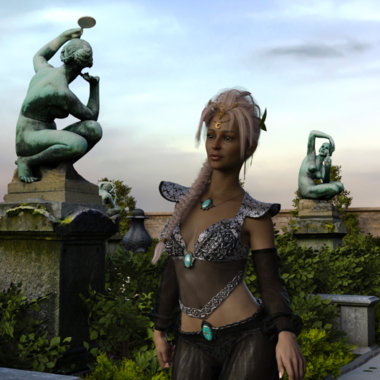 Eden's Garden